Axle & Differential for 2005 Mercedes-Benz CL 600
No.
Part # / Description
/ Price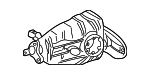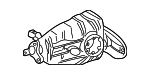 Extension
Cl600, cl55/cl65 amg. Without 4-matic, with s600.
Axle Assembly
Axle Assembly, Left
Cl600, cl55. Without 4-matic, s55. From 04/29/2003.
Boot
Outer Boot, Left
Outer. Without 4-matic. Clk320, clk430. Optional. Slk320, slk32. C280. Bolt On Driveshaft. From Chassis/VIN A256646. Traction Control.
Lock Cap
Lock Cap, Left
Sl500, sl600. 400, 420, 500. 500sel, 600sel. 400se, 400sel, s420. 500sec, 600sec. S500, s600. S65.
Inner Joint
Inner Joint, Left
S420, s500, s600, s55. Cl500, cl600, s55. S430 4-matic, s500 4-matic. Bolt On Driveshaft. S65.
Differential Cover
Differential Cover, Rear
Cl600, cl65. Armored Body Equipment. S600. To 1/31/07. To Chassis/VIN A126226.
1 This price excludes a refundable manufacturer's core charge. Add the part to your cart to see the core charge.
Related Parts
Part # / Description
/ Price
Axle Assembly Nut
Axle Nut, Rear
Without sl65. Without cl65. Exc.Armored Body Equipment.
Cv Joint Boot Kit
Cv Joint Boot
9 speed trans. 7 speed trans. Plug-In Driveshaft. Mechanical differential. C320. C240.