No.
Part # / Description
/ Price
ABS Modulator Insulator
ABS Pump Assembly Insulator
All Required. Hydraulic pump,buffer. ABS pump assy,buffer. Glk/glc, 2016-19. Suv,. Coupe, with active body control, reservoir & components. Convertible,. , front. Sedan,.
ABS Accumulator
Accumulator
2003-06. E320, e320 cdi, e350, e500. Sl500, sl600, sl55 amg. Sl65 amg. Sl-class. E55 amg. Sl550. Sl63 amg.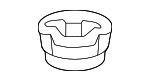 Reservoir Cap
2003-06. From vin 102745. 2001-04. Glk/glc,. Suv, without hybrid. Coupe/convertible,. 1998-00. Convertible, without hybrid. 2006. Sedan, wagon,.
1 This price excludes a refundable manufacturer's core charge. Add the part to your cart to see the core charge.