No.
Part # / Description
/ Price
Power Steering Pump Pulley
Pulley
Cl600 & cl65. 5.5l - v12. 6.0l. With active body control, pump & lines. Sedan, with active body control, s65. Sl65.
Cap
Reservoir Cap
Sl600, sl65, sl63. With c63. 5.5l. 500. 2.3L. 1.8L. 2.1l. Sedan/wagon, e350 blue tec. 6.3L. Coupe, 3.5L.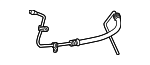 Power Steering Return Line
Return Line
Sl65 amg. Sl600. Sl500, sl55, sl550, sl550. Sl63 amg. From Chassis/VIN F109966. Gear to Cooler.
Discontinued
1 This price excludes a refundable manufacturer's core charge. Add the part to your cart to see the core charge.
Related Parts
Part # / Description
/ Price