Master Cylinder - Components On Dash Panel for 2013 Mercedes-Benz SL 63 AMG®
No.
Part # / Description
/ Price
Master Cylinder
Sl class. Cls class. E class. E550, e63 amg. E350, e350 bluetec. Sedan/wagon, without e400. C63.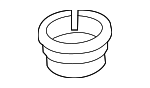 Power Brake Booster Gasket
Booster Gasket
2001-04. 2007-11. To 07/31/2020. Coupe/convertible,. To 05/26/2020. Glk/glc,. To 07/08/2020. Sedan, wagon,.