Crankshafts & Parts for 2021 Mercedes-Benz AMG® GT
Select Crankshafts & Parts part
Vibration Damper
Other Names:
Engine Crankshaft Pulley, Engine Harmonic Balancer
Replaces: 177-030-00-00-64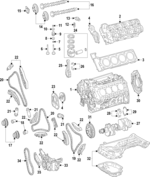 Crankshaft
Description:
Amg gt c. Glc63 amg s. E63 amg s. Amg gt s. C63amg. G63 amg. Amg gt black series. Amg gt r pro.
No results found. Here are some helpful search tips:

Search by a part name. Example: water pump.
Be less specific. Example: brake instead of ceramic brake.
Remove information such as make, year or model.
Can't find the part you are looking for? Contact us and we'll find it for you!