Front Brakes for 2011 Mercedes-Benz Sprinter 3500
No.
Part # / Description
/ Price
Wear Indicator
Wear Indicator, Left
Sprinter van. With electric park brake. Front. With awd. Brake wear sensor. Optional.
Brake Hose
Brake Hose, Left
Single rear wheels. Sprinter van. 3500xd series. 2500. Sprinter van. 1500 series.
Discontinued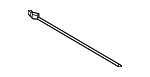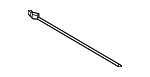 ABS Sensor
ABS Wheel Speed Sensor, Front
Without awd. Rwd. Sprinter van. Incl.ABS Wheel Speed Sensor Wire Harness. Code bb9/bw5.
1 This price excludes a refundable manufacturer's core charge. Add the part to your cart to see the core charge.
No.
Part # / Description
/ Price
Transmission Oil Cooler Line Clamp
Return Tube Clamp
3.5L. 4.7l biturbo. 4.6L - v8. #1. 6.0L - v12. 6.3L - v8. 4.6L biturbo. Convertible, 5.5L, type 2. Suv, 5.5L. 2.1l diesel. 3.0l.
Related Parts
Part # / Description
/ Price
Caliper Support Lower Bolt
Disc Brake Caliper Bracket Mounting Bolt, Front
G550. 4wd gle350, gle450, gle580. , 4wd, gle53 amg, gle63 s amg. Gle 53. Exc.High Performance Brakes.